Tracker Network has released its new Rainbow Six: Siege Tracker on the popular Overwolf app, with an aim to allow players to "track matchups, see their MMR, and calculate your chances of winning".
The free app - available to add to the game-tracking program on overwolf.com - has been a much-demanded feature that many high-level Siege players have been crying out for. Overwolf's popularity in the competitive gaming community comes from the ease of access in its stat-tracking, and the ability to employ overlays on the full-screened games.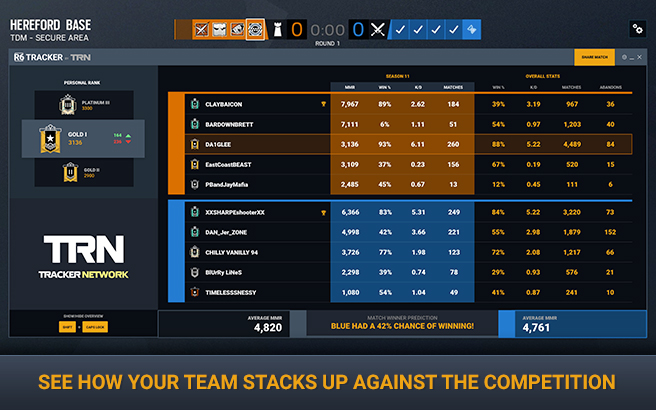 It's a feature Tracker Network has been looking to implement for some time, and a representative from the stat-tracking and news website believes it's the "right step forward" in non-obtrusive but in-depth stat compilation.
"We're excited to finally launch the Rainbow 6 Siege Tracker onto the Overwolf application," the TN representative said. "Here at the Tracker Network we are always looking for ways to change the game, and give gamers a better and more intuitive way to use our programs."
"We hope you enjoy using the app, and if you do download it and love it, tweet out an image to @R6Tracker on Twitter and we might even retweet that sweet picture!"
There may be some that have never used the Overwolf program before - don't worry! It's a super simple feature that the developers state is "made by gamers, for gamers".
The main aim of Overwolf is to allow both casual and competitive gamers a way to "play the game they enjoy, with the added feature of having extra knowledge heading into a match".
If you're considering downloading the application but are worried about pop-ups and overlays, don't be! Overwolf's motto is to "never mess with, or interrupt your game". Instead, you control when and how the stats are given to you ahead of games. Basically, Overwolf "engineers the sh*t out of [their] client to make sure it doesn't hog resources", the app developers have said.
Download Tracker Network's newest Siege application add-on for free at /link.tracker.gg/r6overwolf.